This article has been written to guide you and give you information on the top 5 free eBook applications available on the Android Operating System for smartphones and tablets. After you read this article, you will be able to choose an application that will cater to all your reading free of cost. It is important to remember that each application has its own perks and disadvantages and developers keep releasing updates to eliminate the bugs. Read on for gaining detailed pros and cons about the top 5 free eBook Reader apps on Android.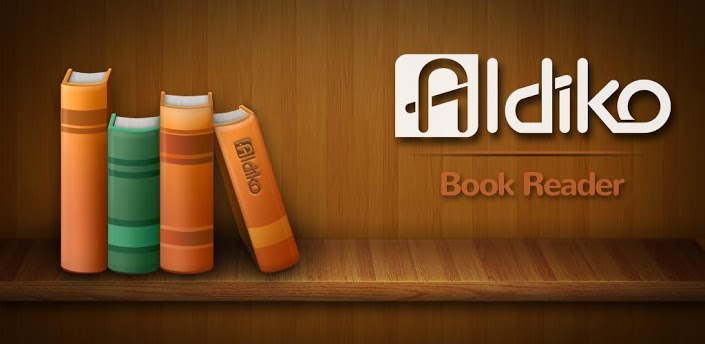 eBooks Android App #1: Aldiko Book Reader
Aldiko book reader is designed keeping in mind a beginner/novice reader on Android. It has a simple, clean and efficient user interface that is a delight to use. Though it is devoid of glittering themes and backgrounds that you can apply to your book, it does have some functions that seal its position in the top 5.
For starters, Aldiko has programmed the application to pick up exactly where you left. So no more fumbling with pages, you are in safe hands here. You can load the book and add as many bookmarks as you want too! There is a more complicated and utility filled paid version of the app available on the market.
Download Aldiko Book Reader for your Android Device today
eBooks Android App #2: Kobo
For social networking maniacs that like to have discussions regarding books, Kobo is the application for you. Armed with Facebook integration, Kobo is worth being a paid app in all sense.
It allows you to share your views and build a library on facebook. The Kobo store has over 1.8 million books from paid recent releases to the free timeless classics. Font and styles can be modified according to your will. Kobo truly makes eBook reading a joy to pursue.
Download Kobo via Google Play on your Android Device
eBooks Android App #3: Kindle
If you have ever read a book on Android or any other platform for that matter, you have most likely heard of Kindle. Kindle is one of the leading names in the industry with one tablet launched merely for the purpose of reading eBooks by the name of Kindle.
One of the unique features that makes Kindle worthy of its position in the top 5 applications is that it has a dictionary built in it. Thus, you no longer have to hunt for a dictionary or pause your reading and go online for a meaning, Kindle brings in the whole deal for you!
Download Kindle for free compatible to your Android device
eBooks Android App #4: EBook Reader
This is an application that is aimed more at reader experience than vast quantity. This does not mean that it has a poor range of books, the selection here too is pretty satisfactory.
That, however, is not why it has made it in the top 5 list. The unique feature of EBook Reader is that it sorts and creates an index for books that don't have it. It creates table of contents with all the different sections of the book and names it. The standard bookmark function is, of course, present. You can also jump to specific pages by searching according to page number and content!
Download EBook Reader via Google Play for free
eBooks Android App #5: FBReader
FBReader is an excellent application that is unique because of its characteristic features by which it supports multiple file formats as well as saves it to the SD card.
You can pull them down and read it any time even if you are offline as well as share the entire book to other devices through email and Bluetooth. It has not one, not two, but three different dictionaries integrated in the application. The fonts here are excellent as FBReader allows you to install whichever font you want and give the book a personal feel.
Download FBReader for your Android Device.
Conclusion
Thus, using any of these applications you can read books on your favorite device. This is beneficial on different accounts such as book portability, eco friendliness and saving space. You can carry books round with ease, cut back on the trees you cut down by shunning paper books and conserve the area in your house. Other applications that are also pretty good but haven't made the list by a whisker are Mantano Reader, Bluefire Reader, Moon+Reader, Nook, Cool Reader etc. Give them a shot, maybe one of them are the right application for you!