In this guide check out the top 5 Digital Devices which can turn your TV to smart tv with this simple, trendy gadgets.
The year 2014 has certainly been a good year for device manufacturers. It is in this year that different device manufacturers have introduced some of the most advanced gadgets that are highly functional. Such include advanced hybrid tablet PCs that have taken the electronics market by storm and thee is possible that you can turn your TV to Smart TV.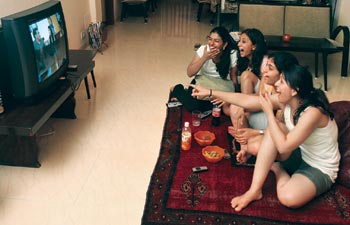 TV to Smart TV
Introduction of new gadgets has not only been in the field of computers, a number of valuable and highly functional TV gadgets have also been introduced.
The great benefit to consumers is not the availability of new TV gadgets. The benefit lies in the fact that the gadgets completely transform normal TV sets to Smart TV sets. This is certainly a relief to most consumers are not obligated to incur additional expenses in buying Smart TV. This is because the gadgets retail at very low prices, which is cost effective than buying a Smart TV set. Below are some of the top five digital devices that you can buy and transform your normal TV set to a Smart TV and enjoy all that is associated with the same.
Evo TV
This is one device that does not only turn your normal TV set to a smart one; it provides for more than a Smart TV. It allows you to turn your TV set into a gaming station with a large screen. If you are into music or love Movie Theater then this is certainly your gadget. More importantly, the gadget transforms your normal TV set into an education hub that you can access right from your room.
Commonly referred to as Evo Box, Evo TV operates on Android Operating System 2.3.4 Ginger Bread. It gives you good HD quality when it comes to sound and video playback. What is more? You have access to your social networking sites, the applications you love, games and an in-built Internet browser.
Evo Box comes with an Evo touch remote control, which in itself is more than a remote control. It is one complex device that incorporates Touch Sensitive Air Mouse, Voice input for Skype and any other VOIP calls and a Gaming Controller. Additionally, the remote control serves as a universal remote for many other devices you may have at home.
Unlike other user interface, that of Evo Box is what can be said to be personal. The Deep View allows you to browse through your favorite sites including Skype, Tune-In and YouTube. The Kwik View on the other hand allows you to access six different applications with one click. It is also through this view that you can access varied web links. The Evo View is one of the most important views as it allows you to move, delete, edit or create views as you wish.
Evo Box also comes with "My YT Viewer", in-built software that gives you access to personalized YouTube channels. It also allows you to create your own preferred channels through a single click. There is no doubt that the integration of all these functionalities in a single device yields one of the most valuable digital TV devices currently available.
Easy to set up and simple to use, the Evo Box measures 22 mm in height, 125 mm in depth and weighs only 75 grams. A package of the device contains a HDMI cable, A/V cable, power adaptor, 3.5 mm RCA converter (Remote Lanyard) and a quick start guide.
Akai Smart Box
This is one Smart Box that offers more than what it is sold for. Getting hold of this device literally transforms your normal TV set into an all-purpose set that you can use in varied ways. It is highly compatible with all types of TV sets. Operating on Android OS, the device is powered by a 1.25 GHz processor. It comes along with a wireless mouse and is equipped with 4 GB internal memory and features SD Card Slot that can accommodate up to 32 GB expandable memory.
The device gives you access to varied content including games, videos and browsing through LAN, 3G or WiFi Internet connections. It also features 4 USB Ports and hard drives for storage.
Portronics Limebox
It is common knowledge that although HDTVs changed TV viewership experience, what has been on offer is very limited compared with a TVs large screen. This is what Portronics Limebox addresses. Running on Android OS 2.3, the device transforms your normal TV set to a smart one, increasing its capability to a new level. You no longer need to restrict yourself to watching videos.
Available in a bright lime green color casement, the device features four rubber grips and an SD Card Slot at the top. A number of connectivity options are at the back. These include an HDMI slot, RGB slot, two USB slots, power slot, optical audio port, an Ethernet cable and a reset button. Internal components include a 1.2 GHz Rockchip processor that powers the device, 512 MB of RAM and 4 GB internal memory. Unlike in other Android interface, the device's user interface has been made to be very simple. You have access to media, games, applications, Internet TV, Internet browser and settings nicely arranged for ease of access. The device also comes with a pre-loaded weather report widgets. Apart from video calls, you can use your transformed TV set to access all your favorite social network sites.
Roku Streaming Stick
This is one of the simplest devices you can use to transform your normal TV set to a Smart TV set. You simply plug the device in your TV's MHL port and automatically receive video feeds on the screen. The device supports remote control functionality and comes along with its own WiFi support for Internet connection. It is definitely valuable for those who find it cumbersome to use device boxes.
Pocket TV
This is one of the most valuable devices that turn any regular TV set to a Smart TV set.  It is a pocket size device that connects to your TV's HDMI port.  It runs on Android 4.0 OS. It is powered by a Cortex 9 processor. You can easily manipulate it using either a standard IR remote control or the Air Remote. You can also make use of your iPhone or Android Smartphone to control the device. This will however require you to download the Google Remote TV application to turn your phone into a remote control unit. It also features a USB port, giving you the opportunity to attach an external hard drive for storage. It comes along with a wireless keyboard and mouse. You are also likely to find a video camera that is useful for video calls. You can also add extra storage through its MicroSD Card Slot.
There is simply much that this device offers. Using the device gives you the opportunity to watch YouTube on a large TV screen in addition to other streaming video subscriptions. If you are into streaming music then this is your device. This is a good device when it comes to gaming as you no longer restricted to using your Xbox360 or PS3.In addition to social media, news and Google Maps, you also have the opportunity to work on your TV screen and even undertake video conferencing.