In this guide find 8 different possible ways to Add Friends on WeChat social communication app.
WeChat is a great way to keep in touch with friends and other contacts. There are different ways you can add friends onto this app. Have a look at options specified here for WeChat 4.5 iPhone compatible version.
Use WeChat Id
To add a friend whose WeChat ID is known to you use the path- Social> Add contact> Add by ID and go on to type the friend's ID pertinent to WeChat. Click on 'Search' to get linked to the friend's page. Click 'Add' and complete the sequence for sending Friend request. Wait for the friend to confirm your request.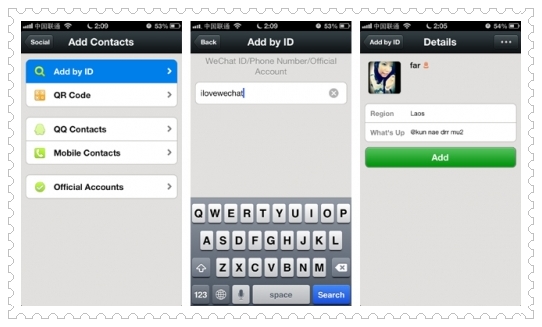 Scan WeChat QR Code
If you know a friend's WeChat QR code add him to your WeChat list of contacts by using the WeChat Scanning. This is also possible for adding on anyone whose WeChat QR code is visible. Use any of these two methods –
Access Chats > Magic Wand icon. This icon is visible on upper-right section of screen. Choose option, 'Scan QR code' to head over to 'Scan QR code' page. Now align QR code in the frame for initiating scan.
Access Social> Add contacts> QR code to go to 'Scan QR code' page. Align QR code within frame for scanning.
Using Mobile Contacts
Add WeChat ID of a friend whose number is already listed on your phone and which has a WeChat account linked to it by using 'Mobile contacts' option.
Go through path, Social> Add contacts> Mobile contacts to navigate to the page 'Mobile contacts', look for friend's contact, click on it. You get linked to friend's WeChat detail page. Here click 'Add' for adding him. If the contact still isn't visible on WeChat enable the 'Address Book Matching' option.
Using 'Look Around'
The Look Around function helps you add people who are close to your location to your WeChat list. While this option comes handy if you have many friends located near but on flip side other people within same location can also find you and once you enable it the option cannot be cancelled. Anyone located nearby will also be able to see 10 recent photos in your album.
Use the option by choosing Social> Look Around which will lead you to the page 'Look Around'. Click on one item for viewing. If you want to go ahead with adding him then click on 'Send greetings'. If the person is interested in adding you then he accepts the greetings and his WeChat profile is added on to your list.
Using 'Shake'
'Shake is a two-way function and once used, others who use it can also locate you. Go to Social> Shake to navigate to 'Shake' page. Hold phone and shake it. In seconds the app suggests names of people who have also shaken their phone at same time. If you're interested in anyone just send greetings.
Add Using 'Drift Bottle'
Access Social> Drift Bottle> Throw to reach the 'Throw Drift Bottle' page where you can write or 'throw' what you want to convey. Anyone interested in the content can respond and start sharing content with you.
By Using QQ
Use QQ, a messenger akin to MSN for adding friends who also have their WeChat account linked to it. Access the QQ Contacts page using path Social> Add contacts> QQ contacts and send friend requests. Download QQ from here: http://www.imqq.com/
Show QR Code
Make your own QT code visible to friends so that they can send you friend request on WeChat. Visit 'QR Code' page using path, Settings> My QR Name card and let your website/ blog be displayed.