Whenever we are looking for apps and analyzer for our phones we happen to go through certain articles and certain magazines write ups so that we can download the best without wasting much of our time. When it comes to OS X the number of disk analyzers that are available are very limited and because they are all very good it becomes very difficult to choose from them.
Amongst all one of it that is available and is loved by all the users is Disk Inventory X which also won't cost the user anything.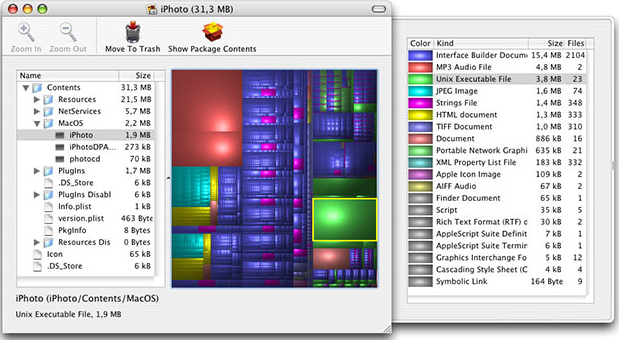 The best part about Disk Inventory X is that it comes free of cost and is for OS X. its important features are –
You can view the files according to the size of the file, and lets you view the entire file.
Post analysis is one good feature; it shows all the information about the app that you have selected.
Finder lets out the specificity so that you can select and delete the exact file.
Can analyze everything whether it's just a file or the entire folder and space.
The additional information is also available when you click the particular app.
The click able map of any data that you have selected can also be read with this. On the disk and color coded of its type.
The basic view is the most important feature that it provides of the whole disk with the start up.
Pros
Very easy to comprehend and use.
Informative.
When you select the app it analyses everything, and then gives a color coded map.
Any portion of that can be clicked, and the information can be taken out from the Finder, so that it can be viewed or deleted.
Drawer based view lets you view the files according to the size and makes it easier for you while viewing. From largest to smallest.
A perfect analyzer.
Cons
Some don't find it to be a decent app.
The information is exceeding the required limit.
A little irritating for some users.
With such small complaints this analyzer has competition too –
It's free of cost but it has no compare for the above mentioned one. It is a little old but can function more or less for the needful. The overview is not given over here. If you don't like the above n want to try something new you can go for this.
It is the pretty app. Many Mac users choose this. It views files differently and gives sunburst maps. It is extremely fast and most importantly very pretty. The only minus point is that it is not free and costs $10.